If a team member no longer requires API Key access or is changing roles, the account administrator can delete their API key. This tutorial walks you through the steps. 
Note: For security purposes, admins cannot view the secret API keys generated by users.

Prerequisites
A user has already been added to your account that currently has an API key in their account

How to Remove User API Keys in the Constellix Management Portal
1: Navigate to Manage Users
Once logged into the Constellix User Management portal, choose the option for Manage Users from the left-hand sidebar or from the Quick Links menu on the Dashboard page.


2. Select User to Edit
To update a user's information, click on the username of the team member you need to edit.


3: Remove API Key
To remove an API key for a user who currently has privileges, click on Remove API Credentials on the left-hand side of the Manage User window, and then click the blue Submit button.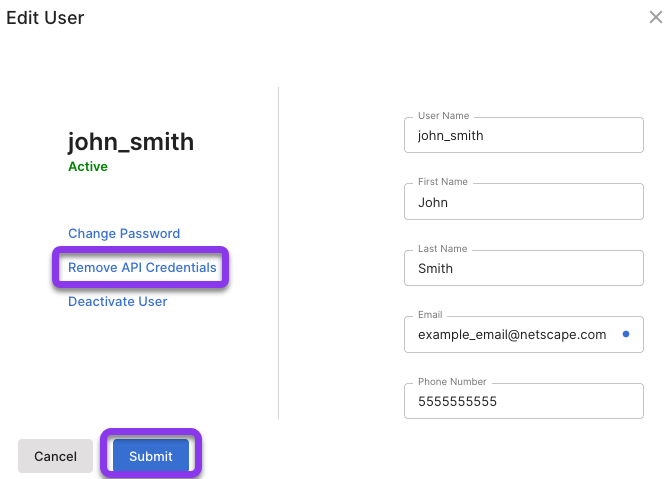 Important: Any service currently utilizing this user's API key will not work once the key is deleted.

Once you click Remove API Credentials, a popup window will appear. Any key the user had previously generated will appear here. Only the public key(s) is visible, the secret key will remain hidden. 

Click the box beside the key that needs to be deleted, and then tap the red Remove button to confirm and save.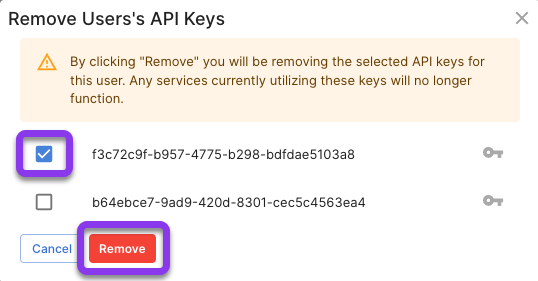 The selected key has now been deleted and a success message should appear on your screen.


Visit our website for more information on our services and features.