The Constellix DNS Dashboard features an IP Lookup tool, which provides pertinent details for any IPv4 or IPv6 address in our Geo Database. This tutorial will show you how to access this tool and how to use it.

Common Use Case for Using the IP Lookup Tool
Using our IP Lookup tool is useful for troubleshooting IP locations relevant to Geo Proximity or IP filter rules configured in your account. For example, if you are located in Sweden, but have an IP that is registered in Germany, this could cause errors and/or functionality issues with the GeoIP services you have configured. The IP Lookup Tool can help you track down which IP is causing the problem so that you can get it corrected.

Tip: To correct location-related IP issues like in the example above, you would need to contact your internet provider and request that they update where the IP is registered.

Prerequisites

How to Use the IP Lookup Tool in Constellix
1. Navigate to Advanced > IP Lookup
After logging in to the Constellix DNS dashboard, select Advanced on the left-hand side menu to expand options and then click IP Lookup.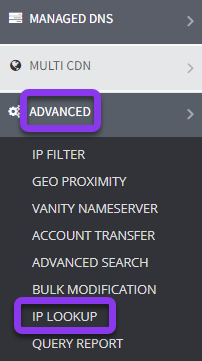 2. Enter IP address or Hostname
Once on the IP Lookup page, enter the IPv4 or IPv6 address or the hostname that you need information for, and then click the gray Lookup button to see the results.
 


3. View Results
Depending on the IP or host you entered, you will see the map of where the address is located as well as the following information (for demonstration purposes, we used example.com):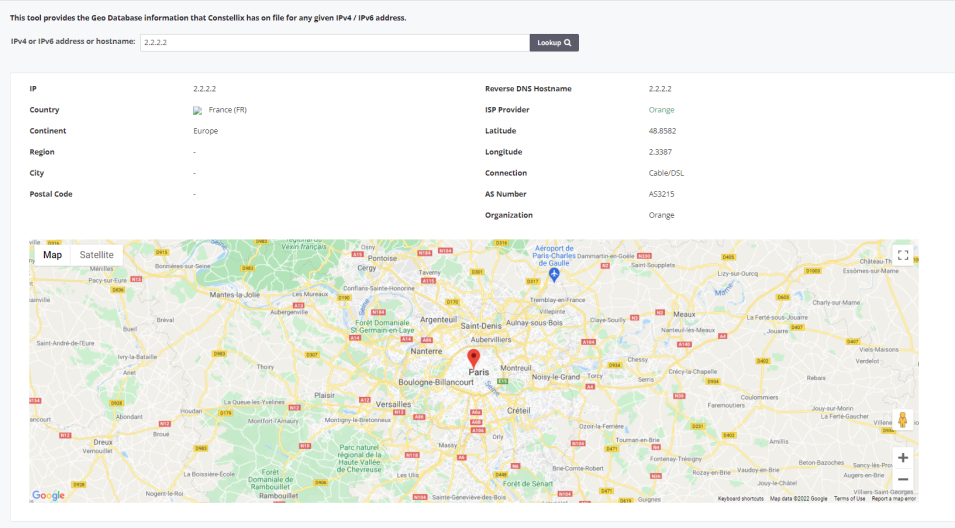 IP
Country
Continent
Region
City
Postal Code
Reverse DNS Hostname
ISP Provider
Latitude
Longitude
Connection
AS Number
Organization
If you want to view another IP/host, just repeat the above steps.

Note: If the IP/host you are looking for does not exist, you will see the following message:

Visit our website for more information on our services and features.