If you have an existing domain, you can import DNS records from this domain into a domain in your Constellix account using our Zone file import feature.  This guide will walk you through the process.
Note: After importing your records into Constellix, you can modify them at any time.

Common Use Case for Importing Records From a Zone File
Importing records from a Zone file simplifies and speeds up the process of adding records to a domain. It also helps cut back on errors and misconfigurations that can occur when records are created manually.

Prerequisites
You already have a Constellix account
You have the zone file for the domain you want to import records from

How to Import DNS Records From a Zone File
1. Navigate to Managed DNS > Domains
After logging in to the Constellix DNS dashboard, select Managed DNS on the left-hand side menu to expand options and then click Domains.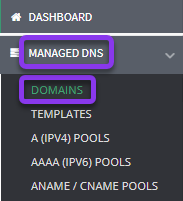 2. Select Domain
From the domains list, click on the domain you want to import records into.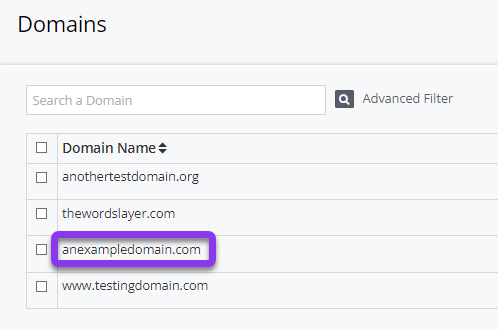 3. Import Records
Once in the domain that you are importing records to, click the green Import Records button on the right-hand side of the page.
 


4. Select Existing Domain to Import From
In the Import Records window, select Zone file from the Import Records dropdown menu. Next, copy the contents of the Zone file and paste it into the Zone file field. Click the gray Import button to complete the action.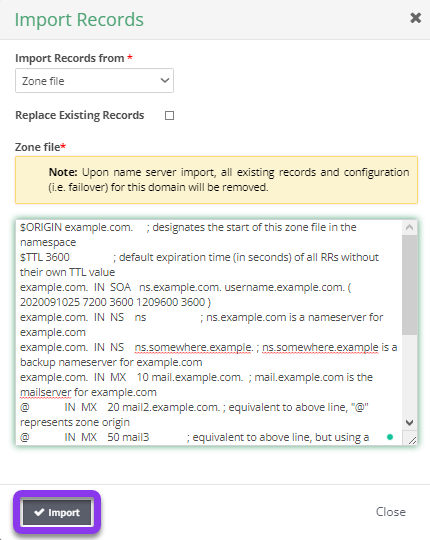 Note: The data shown here is for example purposes only and is not a valid zone file.
If you want to replace existing records for this domain, check the box beside the option Replace Existing Records. Otherwise, leave this box unchecked.
After clicking Import, you will be redirected to the Records page of the domain and a Records imported successfully message should be displayed, as well as a prompt at the top of the screen to review and apply changes.
 


Note: Your record import will not be in effect until you commit your changes.

Visit our website for more information on our services and features.