This guide will facilitate the user in adding and structuring domains in Constellix manually. Constellix also offers the New Domain Wizard that guides users through the process of adding and configuring records. 
Prerequisites
In order to add a domain to the Constellix website, the following must be established prior:
A Constellix account has been created and you have a hosted domain ready to add.
You do not have a domain added to your account or you are adding a domain for the first time to an existing account.
You know how to add nameservers to your registrar. 

Manually Add a Domain in Constellix
1. Navigate to your DNS dashboard 
There are two ways to reach the DNS dashboard.
a) Log into the Constellix DNS dashboard.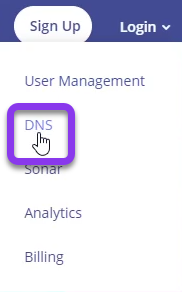 b) Under the Managed DNS section of the left sidebar, select Domains.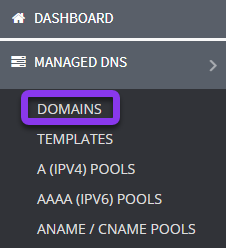 2. Add Domain
Click on the Add Domain button from the upper-right corner of the screen.
 


3. Enter your domain name(s)
Enter your domain in the required field and click the Save button (see Add a Domain with Advanced DNS Configurations below for details regarding specific settings). 
 

Note: Up to 100 domains can be entered. If adding more than one, separate the domains with a comma.
4. Contact your domain registrar 
The Success window will pop up with the nameservers for your domain. You will be prompted to contact your domain registrar. Request the provided nameservers to be assigned to your domain name. Within a few minutes of the assignment, your domain will be ready for records to be added. 
Click on the Close button to exit.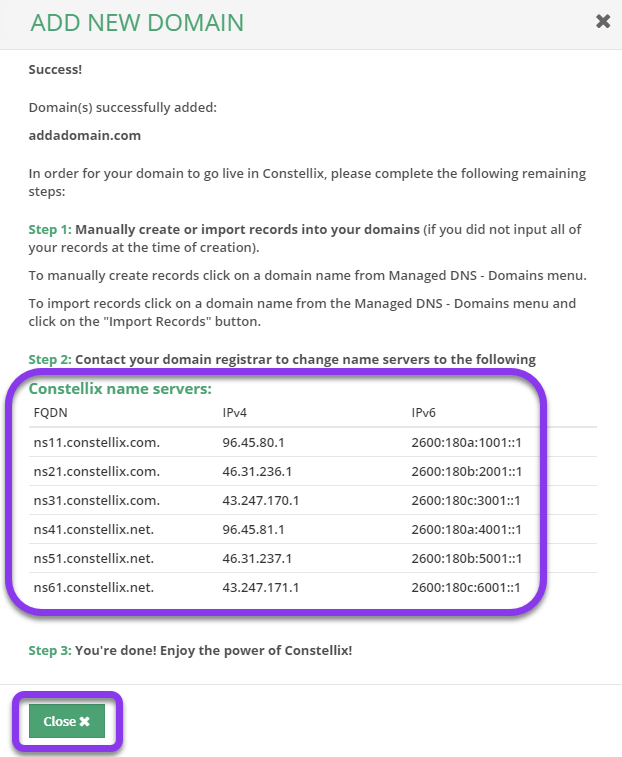 Tip: Be sure to add your records before delegating nameservers to your registrar to avoid any "records not found" errors when someone tries to access your website.

Add Records For Your Domain 
Once you have closed the Success window, you will be taken to the Constellix dashboard. The following video will assist you in adding records to a domain in Constellix.