What are Notification Groups?
Notification groups are collections of contact information that get notified when there is a status change for a sonar check or simply for scheduled reports. These notification groups would be set for specific records/checks. You can also specify notification windows or "on duty" time frames for groups set up in Sonar called Shifts, click here to learn more.

1. Select Group
Click the Contact tab and then select Group in the left-hand navigation menu.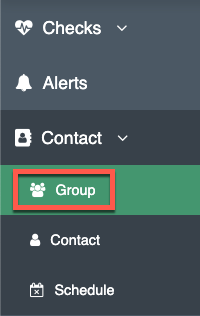 2. Click Add
Click on the plus button in the top right to add a new group.
 

3. Save Group
Add the group's name and description and then click the checkmark to save the group.