The text (TXT) record is a DNS record type that can include both human and machine-readable information. It normally includes a set of instructions for nameservers or identifying information, such as point-of-contact and general details about a domain or network. TXT records have no specific industry formatting requirements, but they are not designed for large amounts of data. The value of a TXT record is also limited to 255 characters, but for information over the character limit, you can split the value into two parts. This is done by enclosing the parts in double quotes ("example text" "example text"). 

Common Use Cases for TXT Records
The most common uses for TXT records are email spam prevention, domain ownership verification, and framework policies. You can configure TXT records as DomainKeys (DK), DomainKeys Identified Mail (DKIM), Domain-based Message Authentication, Reporting, and Conformance (DMARC), and as basic TXT records that store pertinent information about the domain.
Note: TXT Records are replacing Sender Policy Framework (SPF) records, which are deprecated records. Constellix still supports modifications and deletions of SPF records currently in your account, but new or additional configurations must be in TXT record format.
Prerequisites
A domain is already added to your Constellix account
You have imported or created all necessary DNS records (A, MX records, etc.) for your domain

Note: Visit our tutorials on creating records if you need help with record creation. If you need help adding a domain, we have a guide that walks you through the process.
How to Create a TXT Record in Constellix
1. Log in to Constellix and Select Domain
Log into Constellix. Once in the dashboard, select your domain from the Recently Updated Domains list or search for the domain in the top-left search bar.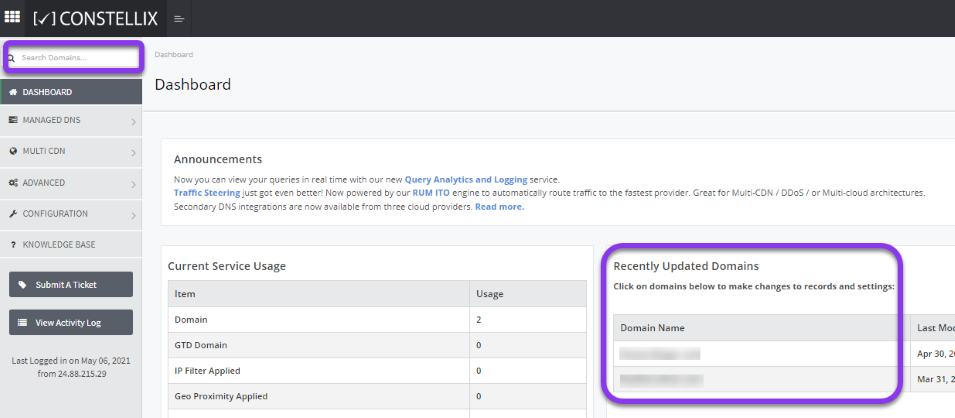 Note: Options available may vary depending on the current configurations set for your domain.

2. Expand TXT Record Options
After selecting the domain that needs the TXT record, you will be taken to the Records page.  If you have not configured any TXT records for this domain yet, click the green + icon beside TXT record to expand options, otherwise skip to step 3.
 


3. Add aTXT Record
After selecting the appropriate domain, you will be taken to the Records page. Scroll down to the TXT Record section and click the green (+) icon to add a TXT record.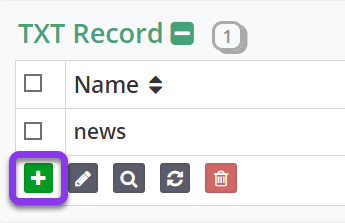 4. Enter TXT Record Values and Save
You should now see the Add TXT Record pop-up window.

Fill out the following values: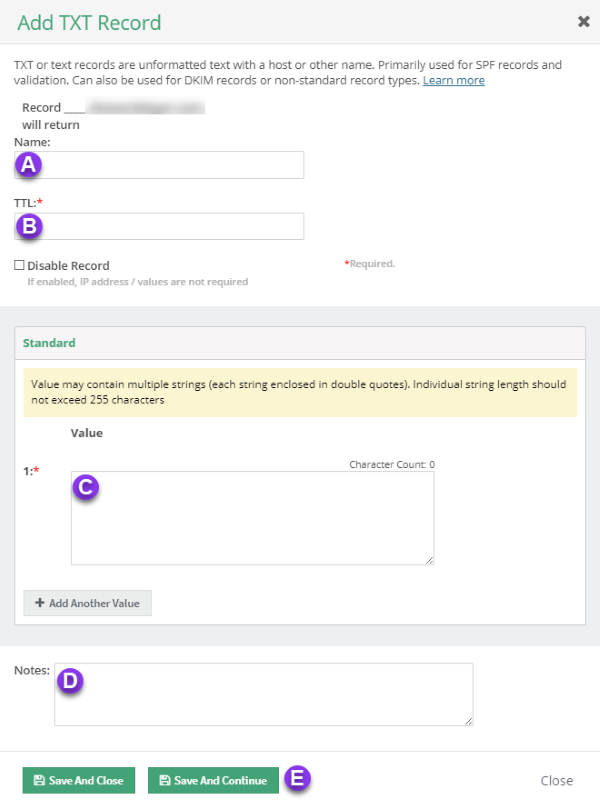 a) Name: The hostname for the record. 
b) TTL: Time to Live (measured in seconds) determines how long a record is cached in resolvers.

Visit our What is TTL resource for more information and best practices for TTLs.
Note: For records that do not change often, such as TXT records, we recommend setting TTL values between 3600 (1 hour) to 86400 seconds (24 hours). If you are planning to update your TXT records, lowering the TTL before making changes will help speed up propagation.
c) Value: Add necessary information in this field. Remember, each string can be a maximum of 255 characters, or should be broken into parts and enclosed in double quotes ("example text" "example text").
d) Notes: This section is helpful for adding notes with keywords so that you can easily search for specific records later.
e) Save: If you need to add an additional TXT record, tap the green Save and Continue button, otherwise, click on Save and Close.
Note: In order for your TXT record to take effect, you must review and apply changes.

Visit our website for more information on our services and features.