Overview
DNS Made Easy allows account administrators to create additional sub-users for your account and to assign permissions to each user. 
NOTE: The user menu options are only visible AFTER additional users have been purchased. For Corporate Users, it's enabled by default. 
Common Use Cases For Adding Sub-users With Permissions
Adding sub-users with designated permissions to your account affords you full control over which configurations, services, and domains team members have access to. This also helps you adhere to compliance policies and cuts down on mistakes due to unauthorized use.

Prerequisites
You are a corporate or enterprise-level member OR you have purchased additional sub-users for your account
How to Create Sub-users and Assign Permissions in DNS Made Easy
Navigate to Config > Users 

After logging in to the DNS Made Easy dashboard, select Config from the top menu and then choose Users from the dropdown. 



Note: To purchase additional users for your DNS Made Easy account: Navigate to Account > Purchase Services > Support / Acct Admin. You can purchase a single user or packs of 10 or 100.


Enter New User Credentials 
In the Users dashboard, enter the following information and then click Save:
 

Note: Options for 2-Factor Auth and SAML 2.0 Auth will be grayed out unless you have previously configured them for your account.



Username
Password
Email
First Name
Last Name
Phone
A. Groups (Optional)
If you have previously created a Group, select the appropriate option from the Group dropdown menu. If you need help creating groups, visit our Create User Groups tutorial.
B. Assign User Permissions
From the Permissions dropdown menu, select the privileges you want the new user to have access to: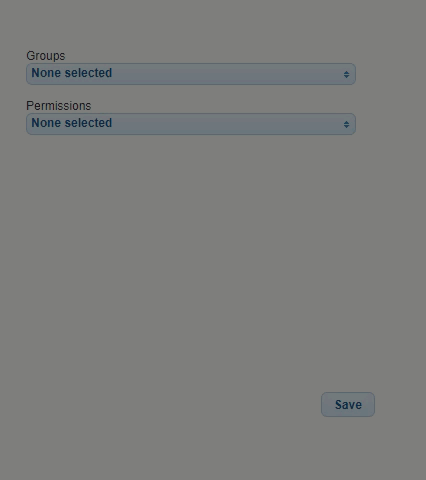 Account Transfer
This allows a user to transfer a domain to another DNS Made Easy account.
Advanced Settings
If a user is granted access to Advanced Settings, they will be able to edit SOA records, Transfer ACL (AXFR), configure vanity nameservers, and configure secondary IP sets.
Mail Services
This lets specified users configure mail services, such as mail forwarding, backup, and SMTP.
Manage Contact Lists
With manage contact privileges, a user can create, edit, or delete contacts in your DNS Made Easy account. This can affect who receives notifications for failover events, renewal reminders, and more.
Managed DNS
The Managed DNS permission grants the user access to a domain's primary DNS (a user would need to be in a group assigned to a folder that included the domain).
Managed Security
If a user has Managed Security privileges, they are able to change user permissions and credentials for any user in your account. 
Monitoring and Failover
This option lets users view and edit records using failover.
Notification Settings
If a user has access to Notification Settings, they are able to set and modify the notifications sent to users in your contact list.
Purchasing and Payment
With this option, a user can view and pay invoices, as well as purchase additional services and addons.
Secondary DNS
If a group has been assigned to a domain folder, the Secondary DNS permission option grants access to the Secondary DNS configurations for that domain.
Service Usage
Users with this permission can view how many domains, records, queries, and additional services are currently being used in your account.
Templates
With Template privileges, a user can create, edit, or delete templates for domains in your account.
View Activity Log
With Activity Log permissions enabled, users can view all changes made in your account since its creation.
After saving, you will see a confirmation message. Click OK to finish.
Related Tutorials:
Modify User Groups and Permissions
Create a Folder
Visit our website for more information on our services and features.