The DNS Made Easy folder feature lets you segment the domains in your account and assign permissions accordingly. In this tutorial, we'll walk you through the folder creation process.
Note: The user menu option is only visible after additional users have been purchased. For Corporate Users, it's enabled by default. 
Common Use Cases For Creating Folders
Adding folders lets you set permissions by domain, rather than allowing users access to all domains within your account. This is especially helpful for MSPs and large organizations will several domains that are managed by different teams.

Prerequisites
You are a corporate or enterprise-level member OR you have purchased additional sub-users for your account
At least one domain has already been added to your DNS Made Easy account
You have added at least one sub-user to your account (optional, for groups)
You have previously created at least one group (optional, to set permissions for domains assigned to the folder)

How to Create Folders in DNS Made Easy
1. Navigate to Config > Folders
After logging in to the DNS Made Easy dashboard, select Config from the top menu and then choose Folders from the dropdown.


2. Create a Folder
In the Folders dashboard, enter the following information and then click Save: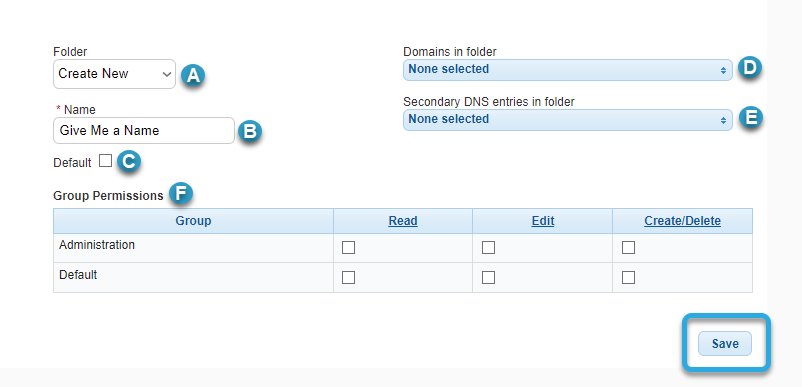 Folder: Choose Create New (default option) from the folder dropdown list. 
Note: If you want to modify a previously created folder, select the name of the folder that needs updating and skip to steps D-F.
Name: Give your folder a unique name.
Default: Checking this box will apply default group settings to the new folder.
Domains in Folder: Select the domain(s) that you want to be associated with the folder.
Secondary DNS entries folder:  Choose whether or not to associate secondary domains with this folder.
Note: Secondary domains will not appear in this list unless you have properly configured the domain for primary and secondary DNS.
Group Permissions (optional): In this section, you can select the privileges for groups that are associated with this folder:






After saving, a success message will pop up. Click OK to return to the Folders page.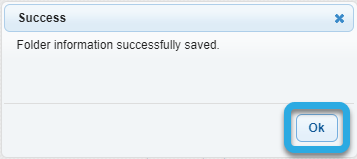 Related tutorials:
Modify User Groups and Permissions
Visit our website for more information on our services and features.