DNS Made Easy's back-up email service provides access to three (3) additional enterprise email server clusters for complete email redundancy.
If your mail server cannot be reached, then your email is sent to DNS Made Easy's Enterprise Back-up email servers. Once it reaches our servers, it remains in queue and we continually reattempt delivery of the mail to your primary mail server. When your primary server is back online, the queued mail is instantly delivered to your mail server. DNS Made Easy will keep attempting to deliver mail to your server for 14 days or until it responds.
NOTE: You do not need to use DNS Made Easy DNS services in order to use our backup mail services. You can add the appropriate MX records for your domain on any system.
Select the Mail drop-down menu and click on Backup 


Click the plus sign (+) to add a new domain for Mail Backup 




Enter the domain name

Enter the domain name that you want email backed up for. If your domain uses DNS services through DNS Made Easy you can click the checkbox to automatically add the required MX records to your DNS configuration. Otherwise, they will need to be added manually. Proceed and submit your information. 



Keep Note
If your domain is not managed within DNS Made Easy you will need to record the MX records to add to your DNS configuration, click on the "Information" icon under "Mail Servers" to view the MX records.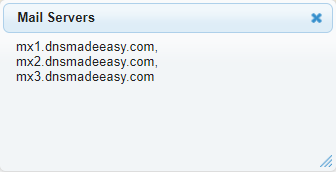 Your primary email server(s) must be at a lower priority than the backup email servers. The backup email servers need to the three highest (in ascending order) mail servers defined in your MX records. You can not have any mail servers at a higher priority than the DNS Made Easy backup email servers. An example would be:
| | | |
| --- | --- | --- |
| mail.yourprimarymailserver.com | Priority | 0 |
| mail.anysecondarymailserver.com | Priority | 10 |
| mx1.dnsmadeeasy.com | Priority | 20 |
| mx2.dnsmadeeasy.com | Priority | 30 |
| mx3.dnsmadeeasy.com | Priority | 40 |