SMTP (Simple Mail Transfer Protocol) is a TCP/IP protocol used in sending and receiving e-mail. DNS Made Easy's SMTP service provides a secure relay for sending an outgoing email using SMTP Authentication.
DNS Made Easy enterprise email servers will act as a secure relay for your email messages using SMTP authentication. Many ISP's today block outgoing port 25 as a spam mitigation precaution. This is preventing many legitimate clients from sending emails from their own domain names. SMTP service from DNS Made Easy will allow you to specify an alternate port for your going email relay through our server.
How It Works
DNS Made Easy's SMTP Service allows you to configure an account username and password so you can authenticate to our SMTP servers, after authentication you can send up to your allotted quota in email as a user from your own domain(s) and from any email account you wish. Your email client or server will need to be configured to use our outgoing SMTP server with the authentication credentials you have created.
Note: DNS Made Easy DNS service for your domain is required to use our SMTP services. We require all users to first create an account, configure the DNS service, then call our offices to subscribe to the SMTP service for verification. You would also need to add our SMTP server to your SPF record (entered as a TXT record). The stand-alone SPF record for our SMTP server would look like this: 
"v=spf1 mx include:smtp1.dnsmadeeasy.com ~all"

1. Select SMTP service


2. Click the plus sign
Click the plus sign (+) to add a new SMTP configuration


3. Configuring SMTP authentication
Add the user name and password you would like to use to authenticate to the DNS Made Easy SMTP server, then click on 'Submit'.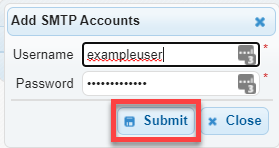 4. Configure your email client or server
Configure your email client or server to send going email using DNS Made Easy's SMTP server and one of the ports supported using authentication with the user name and password you have configured.