The account transfer option allows you to migrate domains from one DNS Made Easy to another DNS Made Easy account without encountering downtime. Account specific configurations such as Vanity DNS, Templates, custom SOA records, Folders, ACLs, and DNS Failover and Monitoring settings will not transfer with the domain. Global Traffic Director services will only transfer with the domain if Global Traffic Director services are present on the destination account. However, all configured records within the domain will transfer as well as name server assignment.
1. Click on 'Account Transfer'

2. Select domains
From the "Transfer Domains" drop-down menu (A), select one or more domains to transfer out of your account to another DNS Made Easy account. Then, enter the new account user name to transfer the domains. Click on transfer.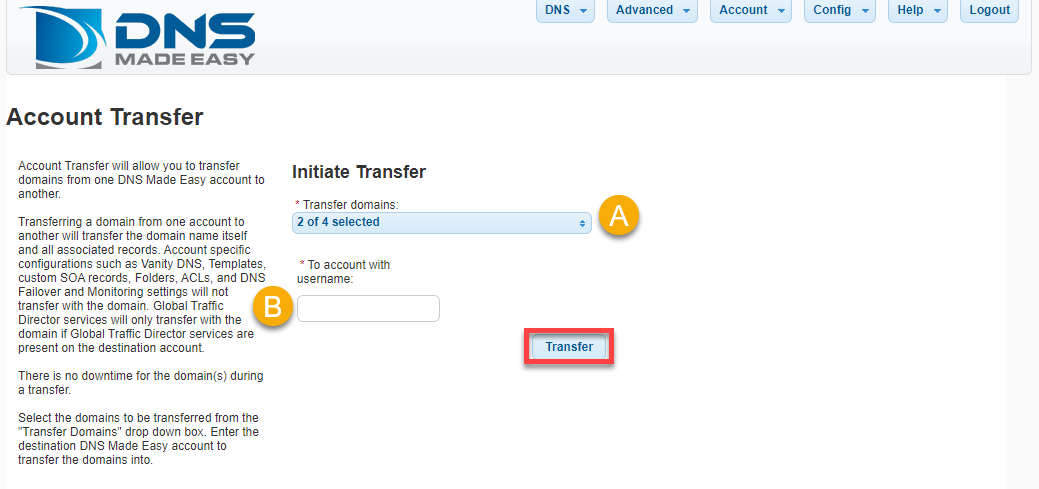 3. Submit your transfer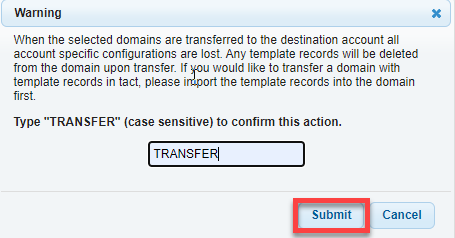 What you will see
The domains will show up as outgoing transfers with the user name of the destination account. You can cancel the transfers by clicking the "X".

4. On the recipient account, navigate to Account Transfer

5. Accept the transfer