Related Articles
Apple announced a policy change with respect to Apps hosted outside the Mac App Store, where all such Apps must be notarized by Apple in order to run by default on MacOS Catallina (v10.15.5) and later. See https://developer.apple.com/news/?id=12232019a for details.
Users attempting to install the PKI Client package for MacOS, get shown a warning pop-up message indicating the package can't be opened because Apple is not able to check whether it contains malicious software, and can't proceed with the installation of the PKI Client package: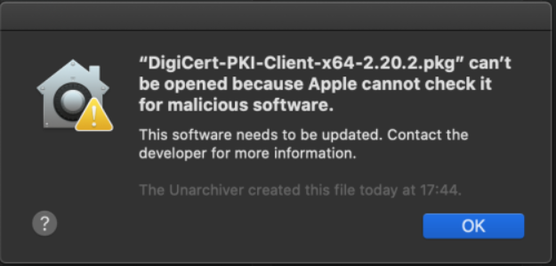 The below steps provide a solution to allow you to continue with the installation of the PKI Client package.
Open the Mac Settings and navigate to "Security & Private", as shown below:

Under the "Allow apps downloaded from" section, the DigiCert PKI Client package will be listed as blocked.
Click on "Open Anyway". User will be prompted for Admin Credentials and then the installation will follow through as normal.
NOTE : Apps available on Mac Store are notarized. However, the DigiCert PKI Client is not available on the Mac App Store, because its not applicable for the entire MAC User base, rather limited to DigiCert PKI Platform customers making use of the DigiCert PKI Client software within an Enterprise environment.
If you have any questions please contact DigiCert Platform PKI support by going to the below link;
https://knowledge.digicert.com/solution/SO17937.html